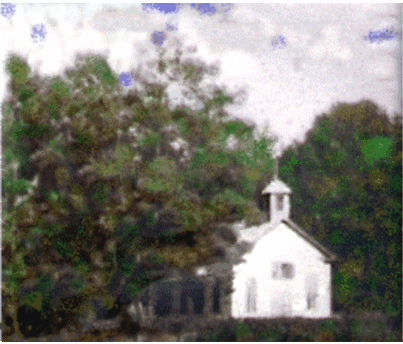 In 1896, Westley Thomas, John Page, and John Furby saw the need and heeded the call of the Master and organized Zion Prospect Baptist Church. The first services were held in the public school building under the leadership of Rev. John Lovett. In 1900, Mr. Westley Thomas donated additional land and built the church building which stood as a tower of strength for 73 years. The early years saw the following Pastors in addition to Rev. John Lovett: Rev. Riddick, Rev. Fred Nettles, Rev. Charles Green, Rev. Harris and Rev. E. J. Jones. During this period, the Deacons and Trustees boards were organized. Rev. James Tynes followed Rev. Jones Irving from 1937 until his death in May 1952.
Several ministers served Zion Prospect after Rev. Tynes death until 1954 when the Rev. Thomas F. Paige became Pastor. Under his leadership, the Homecoming Service was re-instituted. Zion Prospect was saddened by Rev. Paige's death on July 4, 1957. Again without a leader, but with God's help and student preachers from Virginia Union University and Lynch burg Seminary, along with local ministers, Zion Prospect continued to grow and serve its community.
In 1958, Rev. W. F. Ivey became Pastor. Under his leadership, the church achieved many goals, the greatest being a new church building which held its first service on July 28, 1974. In 1972, Zion Prospect licensed its first son, the Rev. Wilbur Jones; in 1976, he was ordained. Rev. Jones is currently the Pastor of Morning Star Baptist Church Hampton, Virginia. In 1985, Rev. Walter C. Johnson joined Zion Prospect and served Zion Prospect with Pastor Ivey until his retirement. In June of 1987, he was installed as the ninth Pastor. Pastor Johnson has been instrumental in Zion Prospect broadening its Education Ministries, Community Awareness involvement, and Youth Ministries. During Pastor Johnson pastorate the following persons were licensed to preach: Rev. Haywood Thomas in February 1991; Rev. Walter Eley in February 1993; and Rev. Alexander Duncan in April 1999.
We are experiencing numerical as well as spiritual growth and through this growth an empowerment of discipleship is being realized and actualized through the committed efforts of the Zion Prospect family. A result of this empowerment can be seen in the renovation, addition to the Present Church edifice which includes baptismal, classrooms, choir room, upgraded sound system, fellowship hall, paving of the parking lot, nd a computer laboratory. In the year of 1998, office hours were established and an office manager was hired. The first church retreat was held at the Virginia Diocesan Center at Roslyn in Richmond, Virginia. New ministries included: mid-day Bible Study; Adult Praise Dancers; Angel Choir, and Computer Training Class. Zion Prospect also hosted the diabetes 6-week training session.
In the year of 1999, new ministries included Jail Ministry at Hampton and Newport News, Grant Writing Ministry and Youth Mid-week Bible Study. God continues to bless us during and throughout the year of 2000. Our membership has continued to increase thereby increasing and empowering the ongoing ministries within the church. During this year the balance of the mortgage for the renovation that was completed in 1996 was paid off. We also purchased an addition of three plus acres of land for future expansion. Initial plans were put in place for a church "Family Life Center."